Vertical Guide System (TKVG)
Guide channels for vertical hanging applications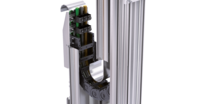 Ready-to-install channel system made of aluminum.
Standardized module.
Easy installation.
For elevators, storage and retrieval systems and many other applications.
Aluminum channel system for UNIFLEX Advanced
The ready-to-install channel system for vertical hanging applications from TSUBAKI KABELSCHLEPP is ideal for use in fast moving storage and retrieval systems with high lateral accelerations. Other typical fields of application are lifters, elevators, construction elevators, crane elevators or lifts. As a ready-to-connect complete system including driver, cables and strain reliefs, it is very easy to install. Standard parts result in short delivery times and a cost efficient solution. This allows energy and data to be transferred within one system reliably and without interruptions.
Standardized for UNIFLEX Advanced 1555
Available from 75 mm inner width and 125 mm bending radius
Other series and types on request
Suitable for extremely long travel lengths
Fixed point offset possible
Fixed point connection alternatively left or right
Cable outlet on the driver alternatively towards the front or rear
Standard lengths of the aluminum profile. Custom lengths also possible on request
Mounting distance of the channel brackets flexibly adaptable
Optional C-rails for assembly
Attachment parts in galvanized steel or stainless steel
Driver
Channel side wall
Fixed point
Standard for driver arm
Assembly profiles for guide channels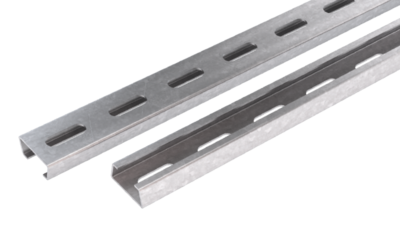 Assembly profiles with sloping sides can be used for all guide channels for fastening
Lengths in 50 mm grid possible
C-profile, perforated, 34 x 15 mm
(slot width 16 – 17 mm)
Material: Steel
Article no.: 3938
Material: Stainless steel (ER 1S)
Article no.: 3939
Attach profile with cheese-head screws M8 – DIN 6912
C-profile, perforated, 40 x 22 mm
(slot width 18 mm)
Material: Steel
Article no.: 3940
Material: Stainless steel (ER 1S)
Article no.: 3941
Attach profile with cheese-head screws M8 – DIN 6912